Curriculum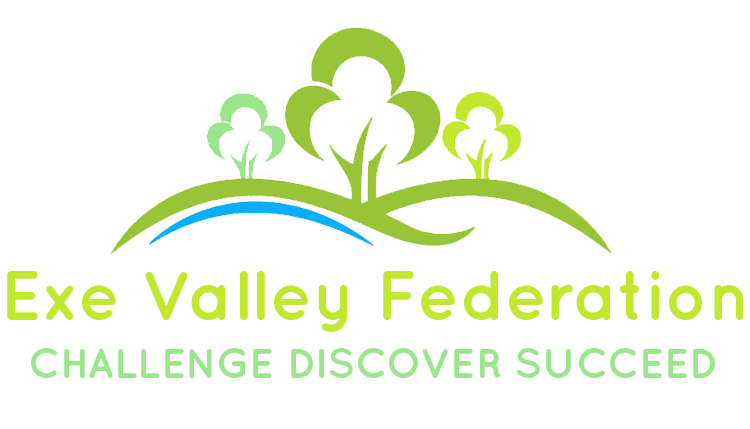 "In a creative, caring environment, we all support and challenge each other to develop confidence and independence. As active global citizens, we are inspired to discover and succeed in lifelong learning."
CURRICULUM VISION
The Exe Valley Federation's vision for education enables children to flourish in a creative and caring environment. This vision is realised by encouraging everyone to support and challenge each other to develop independence, resilience and confidence so that we can enjoy a lifetime of learning.
Our vision is that children who are safe, happy and cared for learn best and that their emotional well-being is every bit as important as their learning. Reflection, curiosity, joy, awe, wonder, resilience, creativity and spirituality are all part of our curriculum, even though they are not measurable in the same way as the formal curriculum.
Our curriculum gives everyone this opportunity and encourages learning in the broadest sense through lessons, projects, home learning, visits and visitors and using the world around us to develop skills that will last a lifetime. The curriculum comprises all the learning and experiences that each school plans for its children. The National Curriculum forms one part of the school curriculum.
The curriculum is designed to be ambitious and expects that every child will be the best that they can be, regardless of their starting points in life. We support children who do not have opportunities to experience the wider world through our teaching, visits and other activities that build a rich and diverse foundation for a secure future.
The curriculum shapes and determines what children will gain from their educational experience. It is the substance of what is taught and is built on the progression of skills and knowledge that children will need to gain to become responsible global citizens of the future.
The EVF has chosen a knowledge-engaged curriculum. This means following a skills-progression curriculum model with knowledge underpinning the application of skills. The 2002 Education Act requires schools to provide a 'balanced and broadly based curriculum' which promotes the spiritual, moral, cultural, mental and physical development of children at our schools and prepares them for the opportunities, responsibilities and experiences of later life. We intend to deliver the 2014 National Curriculum in a purposeful, engaging and creative way by providing a broad curriculum that ensures that there are enough subjects on the timetable and a balanced curriculum that ensures that each subject is given sufficient space on the timetable to deliver its distinct contribution.
CHERITON FITZPAINE SCHOOL is a thriving community of children, parents, teachers and members of the local community. Seeking to serve the villages of Cheriton Fitzpaine, Poughill, Stockleigh English and Stockleigh Pomeroy. We pride ourselves in a strong relationship between home and school. We really value our wonderful outdoor learning opportunities and are keen to continue to develop them. Our Early Years make use of their area adjacent to their classrooms. We enjoy utilising the pond and garden area and further afield the wild area where we now have a fire pit.
Children are equipped with a growing responsibility of their learning through being actively involved in engaged rich and stimulating learning opportunities. As a school we aim to develop confidence, self-esteem and a curiosity for education which will serve everyone well for the rest of their lives. We feel that our school is a special place where children are happy and make good progress in a caring and exciting learning environment.
PEDAGOGICAL PRINCIPLES
Pedagogy is separate from the curriculum and is concerned with the delivery of content and the way that teachers deliver the content of the curriculum, including the teaching styles used in lessons. There are commonly regarded as being two schools of pedagogical thought, the traditional model and the progressive model. The traditional model sees the teacher at the centre of the learning process and a progressive model of pedagogy is a more child-centred approach where learners can play an active role in the learning process. This is a more enquiry-based approach with an emphasis on the acquisition of skills and hands on experiences, project work and a thematic or topic based approach is adopted. In recent years a third pedagogical approach has been developed, known as the centrist approach, which is a balance of teacher-led and enquiry based activities, which balances both skills and knowledge. Resources are mixed between traditional and progressive, as appropriate. Since 2016, the majority of EVF schools have used Cornerstones as the driver for curriculum coverage, outside English and maths and this resource uses a centrist approach to pedagogy. A secure understanding of the pedagogical model being used in the federation schools is essential for effective teaching. When excellent content knowledge complements a clear pedagogy, the result should be excellent classroom practice.